It's an ongoing conversation...
Testimonials
What do you think of the stool?
What about our service?
Did your order arrive on time and in perfect condition?
Any suggestions for improvement on any front?
Please get in touch: contactus@giggyandbab.co.uk
Stefanie, Balham, south London
George, Knott Architects, London N4
The Hornsey in action...
We love to see how the Hornsey features in your lives and homes, so do please send us your photos to feature on this page.
Or post them on Facebook or Instagram or Twitter or Pinterest.
Or on all of those things!
"Bloke from the electricity board shuns proffered step ladder in favour of hot pink Hornsey stool."
Thanks to Stefanie, of Balham in south London, for the pic - love it.
This yellow Hornsey stool has found a good home in the Isle of Wight Biltong Company's beautiful shop, where Sarah and Nick make and sell delicious authentic biltong. Sarah says: "The most gorgeous, beautifully made, easy to move, small foot print, perfect stool ever... for my Biltong Shop customers to sit on while we cut orders. If you are in Seaview on the Isle of Wight pop in and try it out!" Try their biltong too, it's well tasty (and luckily available on mail order).
Don't try this at home! Unfortunately Patricia of Hastings came a cropper when she did just that. Coming across my stand at the Country Living Spring Fair, she showed me this photo of "my ill thought out attempt to put away some blankets." Luckily she didn't do herself any serious damage, and concerned readers will be pleased to know she has now ordered a Hornsey stool. Warm thanks to Patricia for use of the photo.
Alison of Brighton loves her mint green stool, and it fits perfectly in the small space she had in mind for it. The Hornsey's dainty footprint is a mere 36cm x 30cm with steps retracted. Neat!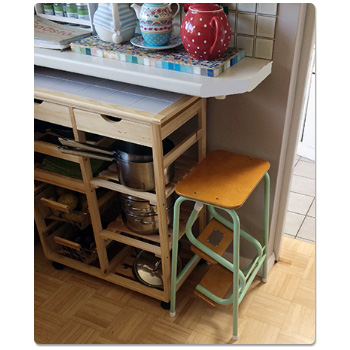 Happy customer Nicola of Bristol kindly sent this pic of her kitchen match made in Heaven. Her husband built her the beautiful pink pantry cupboard, so when she saw the Hornsey stools on The Women's Room blog he urged her to get one to go with it. She says "We are both real fans of UK manufacturing and love beautifully made things - so this order was destined to be!"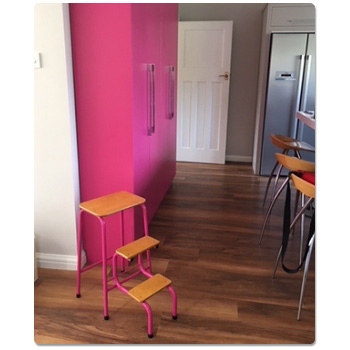 Big thank you to Brian of Sonning, in Berkshire, who said "Really love the stool. Here you can see it deployed as our library steps." Looks lovely hey? He was delighted that the plywood parts matched the wood of his handsome Ercol chair, and the red frame chimes nicely with that beautiful lamp. "What a brilliant idea to revive this design classic. I wish you all the success you deserve."
Artist and mum Simona from Carona, Switzerland, sent in this beautiful photo of her daughter, taken in her studio. She says "I do love your stools and cannot think how I could have worked in my studio without them so far! They are so well designed and so useful too!" Warm thanks to Simona, who is the owner of two Hornsey stools, a cream and a duck egg.
Budding artist Ruby puts her mum Clare's new pale grey Hornsey to good use down in Tunbridge Wells. Interesting fact: beautiful Royal Tunbridge Wells is now home to three Hornsey stools, making it collectively my best customer.
Rachel of Tulse Hill helped me out at the Country Living Christmas Fair and earned herself a well-deserved cream Hornsey. It looks right at home in her kitchen with its off-white paintwork and bare floorboards. Thanks Rach!
Winston the puppy is practising his "climb on the stool and grab those sausages" manoeuvre. His owner Rachel loves her pale grey Hornsey (see her testimonial above).
Liz says her mint green Hornsey is perfect for playing the ukulele, and sent us this photo to prove it. Her testimonial above also recommends it for drinking a cuppa or pondering life.
Ah, here is Liz's Hornsey again in all its minty loveliness, this time posing in her beautiful garden in north London.
Malcolm's yellow stool arrived the same day as his new curtains, now that's what I call good timing!