It's an ongoing conversation...
Testimonials
What do you think of the stool?
What about our service?
Did your order arrive on time and in perfect condition?
Any suggestions for improvement on any front?
Please get in touch: contactus@giggyandbab.co.uk
The Hornsey in action...
We love to see how the Hornsey features in your lives and homes, so do please send us your photos to feature on this page.
Or post them on Facebook or Instagram or Twitter or Pinterest.
Or on all of those things!
Peter and Lara of Teddington have immediately put their new orange Hornsey stool to good use. Peter went on Facebook to say "What a wonderful experience dealing with Giggy and Bab - we needed to exchange our stool and the COVID19 situation made the replacement somewhat hard to source. They stuck with it and we got a fabulous stool just in time to decorate the Xmas tree. We love it." Music to our ears here at Stool Central, and a sincere Merry Christmas goes out to Peter and Lara, and to all our lovely customers.
Little Sadhbh can now reach the basin to wash her hands, thanks to this mint green Birchwood stool. Her mum Mairead says Sadhbh "loves to climb at every opportunity... even if she doesn't need to! Today she helped me put some veg in the roasting dish and she loves using it to sort the cutlery from the dishwasher into the cutlery drawer." For a pint-sized person, it's thrilling to be high up and able to do grownup things.
A mint green Birchwood stool has found a happy home with the Atkinson family of St Andrew on the island of Guernsey. Mrs A kindly posted on Instagram: "It arrived! There has been some debate as to who owns it and it's already proved too helpful for the boys! But we all adore it. Thank you!" Yes, I see what you mean about too helpful - this little chap is looking mighty pleased that he can now reach the goodies in the top cupboard.
Anita in Bromley needed some pretty steps to reach the top cupboards in her bedroom wardrobes, and the delicate boudoir-toning Birchwood stool in duck egg proved to be just the ticket. "My lovely stool has arrived in good time this morning and is exactly what I needed. It looks very smart and is just the perfect height so many thanks," she kindly wrote to tell me. She is, in her own words, "A very satisfied customer!"
Ruth of Worplesdon kindly sent this photo of her new Blackheath pale grey step stool, which fits neatly into a corner of her kitchen, and complements her cream, grey and taupe colour scheme. "I LOVE my new steps," she wrote, adding that the stool is "perfect in my kitchen." Her enthusiasm isn't shared by the family pets. The fish aren't bothered, and Charlie, the sniffy cat, looks singularly unimpressed. But then they don't ever need to reach high shelves.
Monelle and her husband love their black Hornsey stools, one for the house and one for the office. "The steps arrived yesterday morning and they are even better than I remembered, they work very well in the house and the black ferrules are the icing on the cake. My husband's reaction was priceless, he is totally thrilled with them and is taking his to his office today. Many thanks for being so accommodating and well done for designing such fab steps." Alas they had the last 2 black Hornseys but… behold the black Blackheath, a worthy successor methinks.
This yellow Hornsey stool sizzles against the vivid green floor of Trudi's kitchen in Brighton. "Loving my new jaunty stepstool from Giggy & Bab. Primary colours, retro shape and practical. Every home should have one!" Quite so, and for an extra dollop of vintage vibe, check out Trudi's wares at
Handmade & Vintage
, including gorgeous original fabrics from the 40s onwards, as well as lovely homewares and handmade gifts. Her blog is really good too.
Boxing Day 2019 brought a welcome extra Christmas present in the shape of this kind email from happy customer Sarah of Holland Park, London. "I bought 4 of your lovely stools at Spirit of Christmas. I gave 3 of them as presents yesterday and everybody loves them. Just thought you would like to know." Indeed I did. Her choice? 2 Birchwoods in cream, and 2 Blackheaths, 1 in red and 1 in yellow.
Happy customer Caroline enjoys a cuppa on her new Birchwood duck egg stool, a gift from her friend Ann. "Love my new gorgeous duck egg blue stool!! My grandmother had a stool like this so am very happy to have one! Perfect perching stool too," she wrote. Ann waited months for the new duck egg stock to come in as she knew it was the perfect colour for Caroline, who she said was "absolutely delighted with it and happy to have waited so long in order the get the 'perfect stool'. Thanks again." Happy to oblige ladies.
Jessie of Harrow kindly emailed after receiving her teal Hornsey stool:
"Dear Giggy and Bab, My stool was delivered yesterday. I am delighted with it, wonderful quality product, exceeded expectations. The colour is true to the image on the website. Superb and personal customer service - thank you. I will order again - these stools make a lovely present."
Yve of London NW1 opted for a cream Hornsey. She writes "the stool arrived on Tuesday beautifully packed and it is lovely. We have put it on the landing upstairs so Katie and I can reach up into our top cupboards at last." She will clearly not be using it as a rather unfit for purpose veg rack! Sensible woman.
"Bloke from the electricity board shuns proffered step ladder in favour of hot pink Hornsey stool."
Thanks to Stefanie, of Balham in south London, for the pic - love it.
This yellow Hornsey stool has found a good home in the Isle of Wight Biltong Company's beautiful shop, where Sarah and Nick make and sell delicious authentic biltong. Sarah says: "The most gorgeous, beautifully made, easy to move, small foot print, perfect stool ever... for my Biltong Shop customers to sit on while we cut orders. If you are in Seaview on the Isle of Wight pop in and try it out!" Try their biltong too, it's well tasty (and luckily available on mail order).
Don't try this at home! Unfortunately Patricia of Hastings came a cropper when she did just that. Coming across my stand at the Country Living Spring Fair, she showed me this photo of "my ill thought out attempt to put away some blankets." Luckily she didn't do herself any serious damage, and concerned readers will be pleased to know she has now ordered a Hornsey stool. Warm thanks to Patricia for use of the photo.
Sarah of Southgate spotted her yellow Hornsey stool at an event for entrepreneuses in Bristol, and had to have it. "I love my stool! Perch on it when having my breakfast every morning and look out at the garden!" she writes. Breakfast apparently consists of Frosties straight out of the packet... it takes all sorts. Incidentally, this particular stool had a brief career as a TV star, on George Clarke's Old House, New Home on Channel 4 on 8 November 2018. It featured in the made over Plumstead home of Tom & Shrez, before heading from south-east London to north London
Alison of Brighton loves her mint green stool, and it fits perfectly in the small space she had in mind for it. The Hornsey's dainty footprint is a mere 36cm x 30cm with steps retracted. Neat!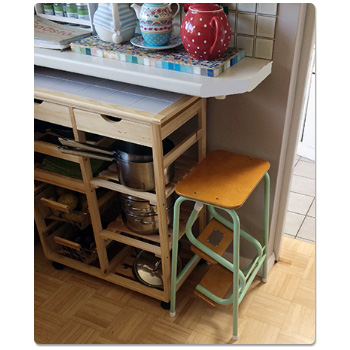 Happy customer Nicola of Bristol kindly sent this pic of her kitchen match made in Heaven. Her husband built her the beautiful pink pantry cupboard, so when she saw the Hornsey stools on The Women's Room blog he urged her to get one to go with it. She says "We are both real fans of UK manufacturing and love beautifully made things - so this order was destined to be!"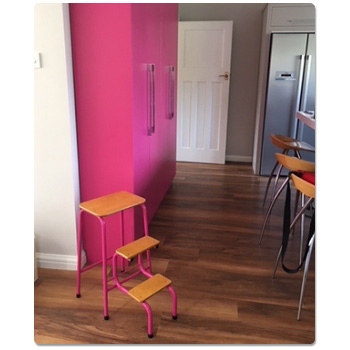 Big thank you to Brian of Sonning, in Berkshire, who said "Really love the stool. Here you can see it deployed as our library steps." Looks lovely hey? He was delighted that the plywood parts matched the wood of his handsome Ercol chair, and the red frame chimes nicely with that beautiful lamp. "What a brilliant idea to revive this design classic. I wish you all the success you deserve."
Artist and mum Simona from Carona, Switzerland, sent in this beautiful photo of her daughter, taken in her studio. She says "I do love your stools and cannot think how I could have worked in my studio without them so far! They are so well designed and so useful too!" Warm thanks to Simona, who is the owner of two Hornsey stools, a cream and a duck egg.
Budding artist Ruby puts her mum Clare's new pale grey Hornsey to good use down in Tunbridge Wells. Interesting fact: beautiful Royal Tunbridge Wells is home to four Hornsey stools, making it collectively my best customer (after London).
Rachel of Tulse Hill helped me out at the Country Living Christmas Fair and earned herself a well-deserved cream Hornsey. It looks right at home in her kitchen with its off-white paintwork and bare floorboards. Thanks Rach!
Winston the puppy is practising his "climb on the stool and grab those sausages" manoeuvre. His owner Rachel loves her pale grey Hornsey (see her testimonial above).
Ah, here is Liz's Hornsey again in all its minty loveliness, this time posing in her beautiful garden in north London.
Liz says her mint green Hornsey is perfect for playing the ukulele, and sent us this photo to prove it. Her testimonial above also recommends it for drinking a cuppa or pondering life.
Malcolm's yellow stool arrived the same day as his new curtains, now that's what I call good timing!